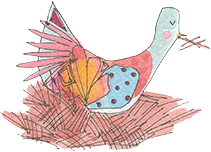 29 - 40 weeks
The weeks have flown and you're feeling 'really pregnant'. This is where lack of sleep and backaches can combine with the excitement of choosing baby clothes, decorating the nursery and preparing the family for the new arrival.
How you may feel
Physically
As the baby grows bigger, you may become very fatigued. Nausea could return. You might also experience back pain and Braxton-Hicks (practice) contractions. These happen several minutes apart, often throughout the whole pregnancy. They're usually not too painful and don't become stronger or more frequent. They often go away when you lie down or rest.
Your ligaments will stretch as the baby starts to engage in your pelvis, which can be painful. You may find going to work is tiring and that it's hard to get comfortable in bed. You may also experience shortness of breath or heartburn. Talk to me about how we can relieve any physical discomforts you might have.
Emergency physical symptoms:
If you have any of these, you must call the delivery suite without delay. If you have any concerns, don't wait, just call.
painful regular tightenings
leaking fluid from vagina
bleeding
decreased or no foetal movements
Emotionally
In this last trimester, you may feel a combination of emotions. Excitement and impatience about finally meeting your baby, nervous about the birth and a little overwhelmed about looking after a newborn. If ever you feel things are getting on top of you or your partner, talk to me about your concerns.
What you can expect from me
We'll be seeing each other more frequently from now until your due date and keeping a close eye on how you and baby are progressing.
Your 32 week visit
I'll be checking your blood pressure and abdomen measurement to make sure baby's growth is on track. I'll perform a quick ultrasound scan and check baby's heartbeat and will ask about the baby's movements.
Your 34 Week visit
All your usual tests for blood pressure, abdomen measurement, foetal heart check and a quick ultrasound scan. If your blood type is RhD-negative I'll give an anti-D injection. Read more.
Questions you may have
What are my options for birth plans?
It's good to write down your birth preferences and take them to the hospital with you, remembering that no-one can actually control the timing or type of delivery (unless it's a planned caesarean). I suggest you go into labor with an open mind and understand your pain relief options. For more reading on this, New York Times have published a great article, Welcome to NYT Parenting. Here's Why We Won't Say 'Natural Birth. Try not to focus on the 'how', but on having a healthy baby in the end. It's also great to have a 'post-birth' plan to help you after baby is born. Post Birth Planning – consider the following:
online shopping
have the freezer stocked with ready-made foods
how much time off does my partner have to help me?
If I have an unplanned Caesar, will I need extra help at home?
A cleaning / ironing service
Friends to pick up other kids from school.
What sort of movements will I feel from the baby?
Foetal movements are an important indicator of baby's wellbeing. They can be anything from a kick, flutter, swish or a roll. Movements are typically felt by mum between 18-20 weeks and will soon establish into a pattern. I'll ask you about your baby's movements at every visit, but if you are concerned in the meantime, please call the delivery suite where you are booked. Here are some handy hints and valuable information about your baby's movements within your belly. For more reading on your babies movements, see Pregnancy- your baby's movements and what they mean. Saferbaby.org.au have released a great guide to gauging your baby's movements here: Your Baby's Movements Matter.
What are some good things to do at this stage of my pregnancy?
Enjoy being pregnant!
Enjoy feeling the baby move
Catch up with friends
Get things organised at home and work.
What's my air travel cut-off date?
Most international airlines draw the line at approximately 32 weeks. But policies vary with each airline, so call them to check before you book a flight.
How do I know if I'm going into labour early?
You may notice an increase in vaginal discharge that is thick, mucus-like and slightly bloody.
Your water may break. It can be a gush or ongoing trickle.
You may have low back pain or period-like cramps.
You may have what feels like 'contractions' when the uterus tightens and your belly feels hard.
If you are not sure, call the hospital where you are booked. Especially if:
you are a preterm (i.e. under 37 weeks)
there is greenish fluid coming from your vagina
you experience bleeding
there are decreased foetal movements
What if I feel overwhelmed?
Pregnancy can be a time of great joy and excitement, but often it can be overwhelming. Please come and talk to me if you or your partner are not coping. Visit these helpful links for more information. Gidget Foundation http://www.gidgetfoundation.com.au/ Beyond Blue http://www.beyondblue.org.au/ Black Dog Institute http://www.blackdoginstitute.org.au/
What can my partner do?
Apart from attending classes with you, your partner can be doing lots to help you both prepare for the new arrival. Household chores, making sure the nursery furniture is all in place, arranging to have the car capsule installed. You should also both plan your partner's roles during labour and details like whether you'd like him to cut the umbilical cord. He'll also be planning leave from work to spend time with you and baby.
Some Useful Resources
As the hospitals have had to close down their antenatal classes due to Department of Health regulations, there are some invaluable resources you can access online.
This list is not exhaustive. If anyone knows of other valuable resources, please let Deb and I know as we hope to keep sharing information during these tough times.
Things to do and Checklists
Here are some simple steps to help you during your 3rd Trimester.
Things to do:
Keep track of baby's movements and call me if you have any concerns.
Take your antenatal classes.
Make a list and shop for all the baby gear you need and assemble furniture.
Think about banking your baby's cord blood.
Links to donate cord blood:
Cell Care, further information on cord banking can be found in the RANCOG brochure
5. Remember if you have any bleeding, pain, or leaking fluid, call the delivery suite where you are booked. They're available 24 hours a day and if worried, they may ask you to come in to the hospital or will notify me. Read more here